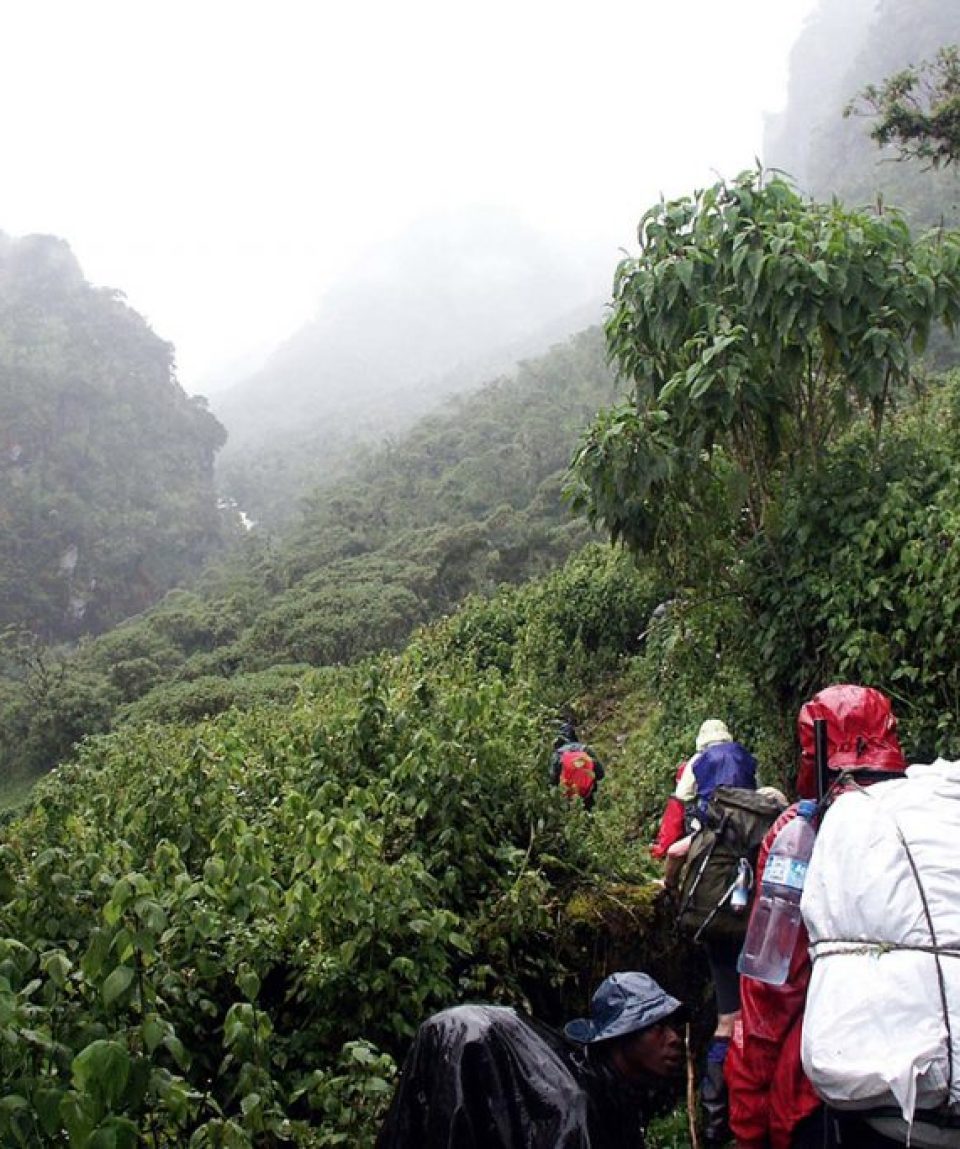 5 Days Rwenzori Johnmaate Camp expedition
from
$0
5 Days Rwenzori Mountain Hiking Safari gets you through Rwenzori Johnmate Camp, a thriving Hike to undertake on your hike to the Summit, with much views emanating from the lower escarpments crowned with Vegetation, there is lots to feed your eyes as you hike. Our Guide will take you through this 5 Days Rwenzori Mountain Hiking Safari to catch a glimpse at the wrath of this apex pointed Mountain.
Reviews 0 Reviews

0/5

Vacation Style Holiday Type

Africa Mountain Tours, Mountain Hiking

Activity Level Challenging
All about the 5 Days Rwenzori Johnmaate Camp expedition.
Day One: Arrival at the Airport
On your arrival you will be meet and greeted by our experienced guide/drive and transfer to your boutique hotel near the international airport or if you arrival is early in the day, you will directly start your journey to the Rwenzori Mountain. Note, there are daily domestic flights to Kasese Airstrip in the morning and mid-Morning therefore this serves as a great deal. Stay at Bush Lodge-FB
Day Two: Nyakalengija (1650) to Nyabitaba camp (2650m)
Start the day by approaching the Rwenzori mountaineering reservation officer early in the morning meet your Guides, Chef and Porters and for a briefing by your lead guide. Starts hiking from the park gate to Nyabitaba a distance of 7km takes 5-6 hours and an ascent of 1200 meters.
The trail at the beginning goes through homes and fields progressing through high elephant grasses and dense bush. You will climb over cliffs and bluffs crossing river Mahoma then ascending steeply into Nyabitaba camp.
Certain animals can be spotted such as the white and black colobus monkeys,three horned chameleon and the Rwenzori Turaco birds. Stay an overnight at the Nyabitaba camp.
Day Three: Nyabitaba (2650)m to Johnmaate camp (3505)m
Nyabitaba (2650)m to Johnmaate camp (3505)m you descend to your right follow the trail that drops down through the forest for a half an hour to the Kurt Shafer Bridge,just before the confluence of the Mubuku and Bujuku rivers.
The walk is then easy going for a couple of hours passing through the bamboo forest and then becomes more difficult kind of like spelunking, traverse through a long and exhausting stretch of slippery moss-covered rocks.
From the nyamileju rock shelter, mount Stanley and Speke can be seen before passing into the zone of the giant Heather, lobelia and groundsel. Finally reach Johnmaate camp after passing through the tiring bog. While here, high chances of catching the nice views of mount Stanley and Margherita glacier. Dinner and overnight at the hut.
Day Four: Johnmaate camp (3505)m to Nyabitaba camp
Johnmaate camp (3505)m to Nyabitaba camp 2650m and back to Nyakalengija 1650m by early retracing out route back to the park gate.
This 7 km Walk usually takes 2-3 hours. Descending through Mubuku River and through fields to the park entrance gate. Dinner and overnight at Bush Lodge-Queen Elizabeth National Park.
Day Five: Game Safari in Kasenyi Plains, Queen Elizabeth National Park
An early game safari in the Kasenyi plains in Queen Elizabeth National Park before we head to the international Airport Entebbe BUT there is also an Option of taking a domestic flit from the Kasese Airstrip to Entebbe internal Airport that has schedules of morning and Mid-Day operated by Aero link Uganda
End of the tour.