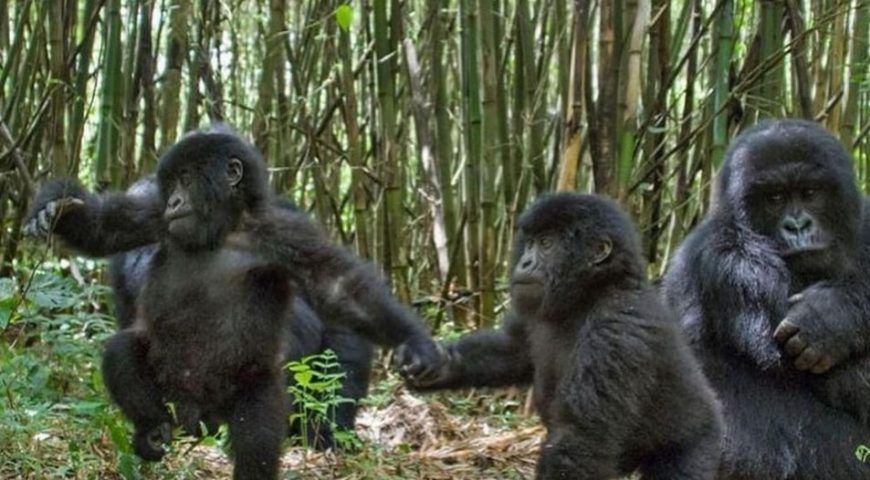 Uganda Mountain Gorilla Trekking Rules
To protect the endangered mountain gorillas in Uganda, the following Uganda Mountain Gorilla Trekking Rules and regulations must be observed:
No one with a communicable disease, such as flu or diarrhoea, is allowed to visit the gorillas.
Do not surround the gorillas but remain in a tight group.
Leave a distance of at least 5m between you and the gorillas.
If they approach you, move back slowly.
Flash photography is strictly forbidden.
Do not eat or smoke within 200m of the gorillas.
If you need to sneeze or cough, turn away from the gorillas and cover your nose and mouth.
Bury all human faeces in a hole dug at least 30cm (one foot) deep and ensure that it is properly filled in afterwards.
All litter must be removed from the park for disposal.
Do not spit on vegetation or soil while in the park.
No person under 15 years is allowed to track gorillas.
When with the gorillas, avoid making loud noises or sudden movements.
Contact time with the gorillas is strictly limited to one hour.
Please observe all instructions from your guide.
Good behavior
Keep your voice down or be quiet. You will see and hear if you do.
Don't point or waive your arms- this can be seen as a threat. Move slowly.
If approached by a gorilla, back away slowly to keep 5m separation.
Don't use flash, this could threaten the gorillas and bother other visitors.