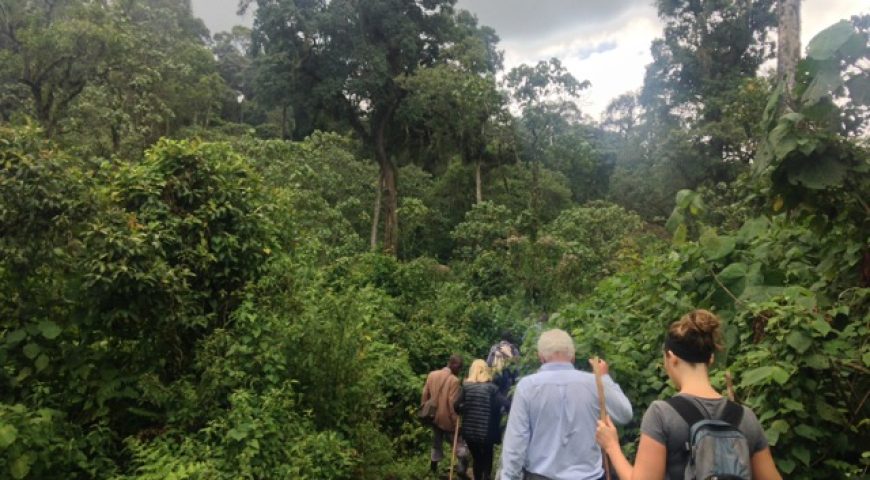 Nature Walks in Bwindi Impenetrable National Park
Nature Walks in Bwindi Impenetrable National Park
The park not only features the Mountain Gorillas but also its hidden beauty lies within the mantle as you span thru on your Nature Walks in Bwindi Impenetrable National Park, its ancient compacted vegetation all cold throughout the years has accumulated a remarkable biodiveristy making it Uganda's foremost touristic destination. Nature walks in the Park in all the trail-heads start early morning at 09:00am and at 2:00pm afternoon time (East African time)
River Ivi Trail
River Ivi trail sits between Buhoma and Nkuringo sections pillowed by winter jasmine and a cold bliss of an emerging forest, the trail connects the southern edge through an old road.
Rushura Hill trail
Rushura hill trail offers extensive broad views with a complete eyesight to the Albertine rift valley with a complete picturesque to all that the valley offers. On clear days, the full stretch covers lake edward and the mountains of the moon(Rwenzori Mountains) to the northern part of the park.
Muzabajiro Loop Trail
Muzabajiro Loop Trail is one of the loveliest trails to feed your eyes with nature wonders of the jungle as well as climbing up to the Rukubira hill summit. It's here at the top that you fall in love with nature views emanating from clear mouthwatering views of Bwindi Forest pillowed by a harmony of frozen mist stack with time. The jaw-gripping views of the Albertine Riftvalley and the virunga volcanoes makes it a worthwhile experience.
Munyanga River Trail
Munyanga River Trail is a short trail towards the Buhoma sector in the Valley that hosts most of bird species and most of the primates commonly seen here along the forest edges.
Waterfall Trail
Waterfall Trail takes you to the mediterrenean old rain forests baked with diverse plant species, it's a remarkable trail that leads through the tree ferns, orchids opening up to a bliss pool of pondering water falls